While cryptocurrencies are integrated into the game world, some game projects also offer their players the opportunity to enjoy NFTs within the game. Therefore, in this article, we have listed some top NFT games in 2021.
Inspired by Pokemon, Axie Infinity is a war game developed on Ethereum. In the game, just like Pokemon, there are digital characters referred to as 'Axie.' However, the difference between these digital creatures is that Axies are NFTs.
The Axies have different characteristics that determine their role in battle. Thanks to these digital characters, you can join battles, upgrade them, and collect new Axies.
However, it is not limited to this. Players with AXS (Axie Infinity Shard) can get a share of the community treasury by having voting rights in the management of the game.
The game is one of the most popular NFT games today. However, to play the game, you need to have at least 3 AXS.
Splinterlands is one of the most famous card games that is based on blockchain technology, in which you create a collection of cards and join battles like Hearthstone. However, the cards players have are NFT assets. Cards can be obtained through in-game quests as well as exchanged with other players.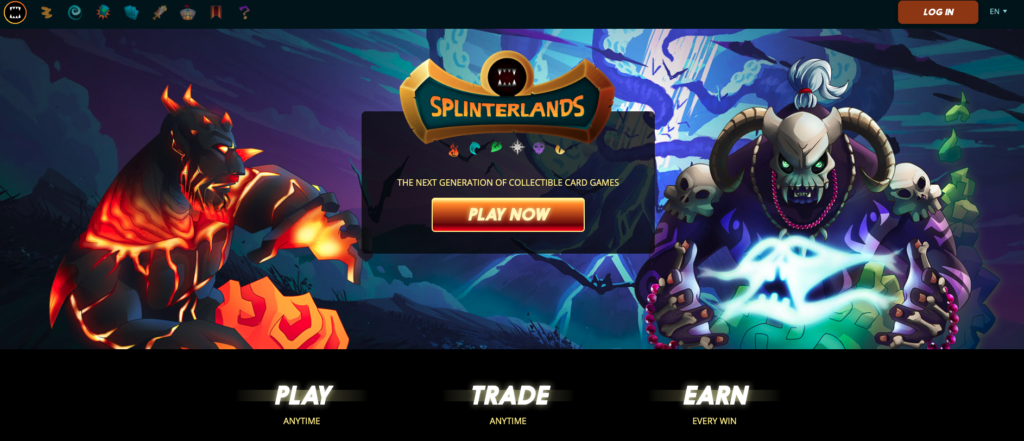 As for the gameplay, the very basis of the game is to beat your opponent by making the best combinations of cards through six different elements and over 500 cards, each unique from the other. Each of them has different abilities and uses in battle. Players have the opportunity to earn money by participating in ranked battles, tournaments, or completing daily quests.
Decantraland, perhaps, is the best adaptation of the famous The Sims and the GTA game series to the metaverse world. You can trade land in the game; moreover, you can build things like an architect on these lands! The 3D virtual reality platform consists of 90,601 parcels of land, which can be traded with the MANA cryptocurrency, based on the Ethereum blockchain.
However, the game is not limited to real estate. Decantraland offers its players the opportunity to participate in different events and games and win prizes. Your lands, characters, clothes, and all kinds of products can be sold as NFTs in the game.
The Sandbox is a blockchain-based virtual world gaming platform and an ERC-20 token built on the Ethereum Blockchain. It offers players the ability to create virtual life experiences on the Metaverse, produce in-game items and monetize them through NFTs that can be converted to real money while playing within The Sandbox to earn.
Sandbox players can purchase lands called LANDs, which is an NFT type in the Sandbox, to create new experiences on these lands. Players can also trade via SAND cryptocurrency purchase LAND and tokens used to design and create new experiences or in-game contents like avatars and equipment. SAND tokens are also required to play games.
Alien Worlds is a Metaverse-based game platform where you can explore new planets and establish your own management. The game has various activities and mechanics, such as fighting other players, participating in tournaments between planets, and completing daily quests.
Alien Worlds allows its players to earn real money via TLM coin. You can carry out mining activities in the game, complete daily tasks, or get TLM coins by trading in-game items.
Town Star is a farmer simulation game released with the experience of the founding teams of Farmville. Players try to reach the highest score in the weekly table by building, producing, and upgrading in the game by establishing the most efficient and best farm. In this way, they try to get the big rewards given to the players who can rank on the leaderboard. In short, Town Star is a platform where players compete with each other for prizes based on the play and win mentality.
Town Star is built on Gala's decentralized network, in which the items and coins are stored. Players can buy, sell and trade their NFTs for Gala or other cryptocurrencies.
Lost Relics is an ARPG powered by Unity where players need valuable items to gain skills and power. The game uses Enjin blockchain loot for valuable items.
Although the supply of blockchain items is limited, these items can be traded with other players or obtained from in-game venues.
What is NFT in video games?
NFT is a digital asset attributed value due to its real-life aspects, such as art, video, music, and in-game items. They are traded online, usually with cryptocurrencies, through various games or platforms. As for NFT video games, they allow you to earn NFTs or cryptocurrencies by playing games, creating collectibles, or whatever the game requires.
So why did NFT games suddenly become so valuable? Well, we have our answer ready for that too. Metaverse applications, which have been slowly entering our lives since 2017, have become popular with Facebook's announcement of the metaverse project.
However, some of these metaverse games not only became popular but also attracted more users by integrating NFTs into them.
They reward their users as long as they spend time in the game and fulfill the necessary tasks. In this way, players can sell the items they acquire in exchange for crypto money, turning this into real money.
Further Reading: Explore The Relationship Between Gaming and Metaverse
Further Reading: Top 24 Metaverse Games to Play in 2022!
What is an NFT?
NFTs, non-fungible tokens, are mutually non-interchangeable assets on blockchain with unique cryptographic codes that differentiate them from each other. An NFT can be a digital artwork, in-game items, digital collectibles, etc.
Why is an NFT valuable?
The value of an NFT derives from the property it represents, like an original piece of art or music. NFTs represent the origin of any purchased asset. An original NFT is unique and, therefore, highly valuable. It's like having millions of copies of the Mona Lisa painting, but just the original requires millions of dollars.
What is an NFT game?
NFT games are where players get cryptocurrency or real money in return by obtaining NFT through various games.
Can I create an NFT?
Anyone with a digital wallet, a small amount of ETH, and an NFT marketplace account can create an NFT.
What is the most expensive NFT?
"Everydays: The First 5000 Days," a collage of 5,000 digital artworks, continues to be one of the most expensive NFTs in the space, valued at almost $70 million. You can explore the other most popular ones by reading "The Most Expensive NFTs Ever Sold" article.